As the popularity of news on Instagram is growing fast, here's a look at what the best news publishers on Instagram are doing in 2019.
10. VICE News
860k followers
Unsurprisingly, VICE's strong presentation and filmmaking skills are on display across their Instagram content. Their feed isn't 100% news focused and is happy to mix up clips of upcoming documentaries or entertainment type photos. VICE News does take advantage of IGTV to get longer form video onto the platform.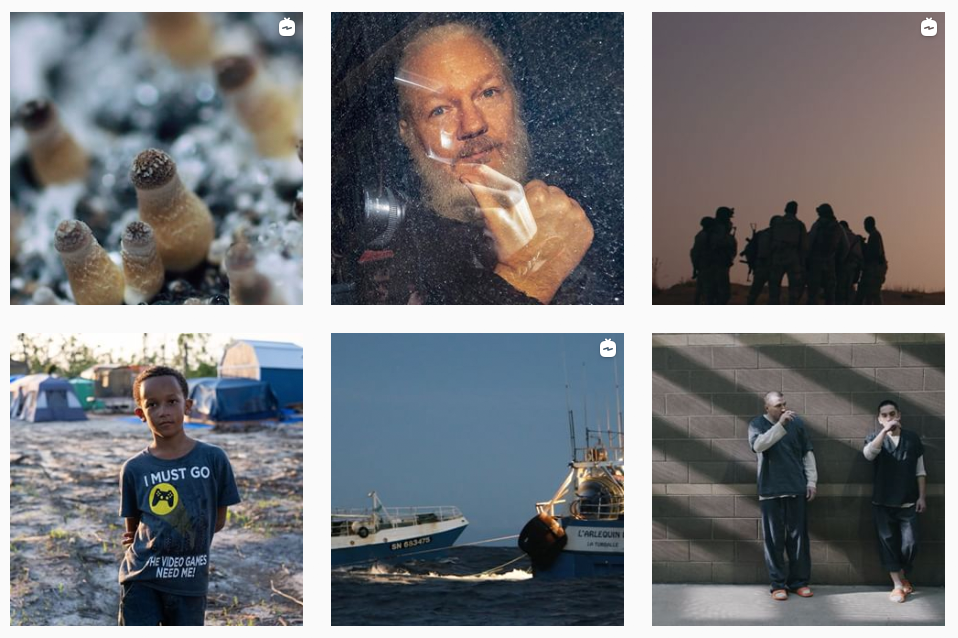 9. News.com.au
53.4k followers
Hailing from Australia, News.com.au relies heavily on entertainment and lighthearted news items, throwing the odd piece of serious news into the mix.
8. The Washington Post
1.8m followers
The Washington Post uses mainly images combined with a fairly lengthy text description to keep their users up to date on important news issues. Often, the images used to front a news story are completely text free. This method of Instagram news posting relies on piquing the interest of the viewer through a striking image. The Washington Post has put IGTV longer form content up pretty consistently since around March 2019.

7. Fox News
3.2m followers
Fox News is a high production quality feed with a mix of serious and viral stories. They have some good examples of Instagram stories.

6. The Telegraph
333k followers
This UK based daily newspaper spreads it focus across world news, politics, entertainment and opinion. For a traditional UK press entity, the Instagram account is smartly presented and modern looking.
5. The Times of London
221k followers
Good use of Instagram stories from one of London's traditional papers. Almost entirely devoid of text over images, The Times uses pictures and videos in its main feed.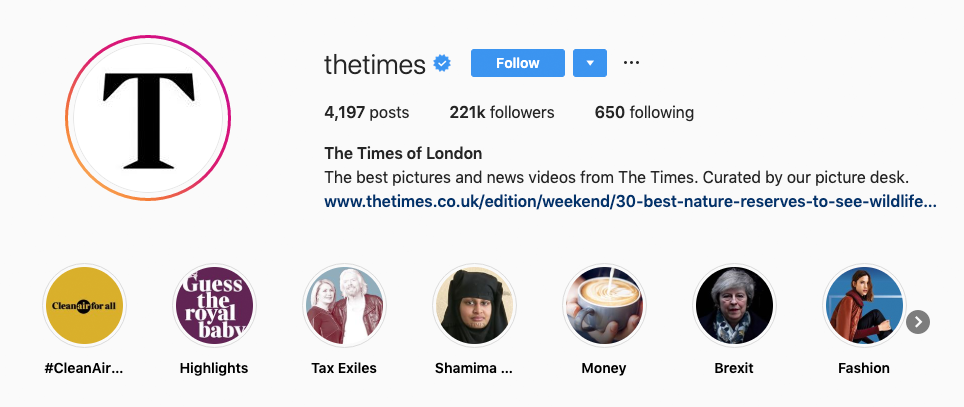 4. Tic-Toc by Bloomberg
166k followers
A well branded and consistently presented mix of world news. Unrelated to the similarly named social platform, Bloomberg's Tic-Toc is news on Instagram done right.
3. BBC News
8.3m followers
The public service behemoth presents an accessible mix of world news events, offbeat stories, longer form video content and an indulgent amount of coverage of the Royal Family. Impressive use of Instagram stories to direct people to the site and also expand upon more involved stories. Their IGTV offering is impressive as expected from a big broadcaster.
2. The Guardian
1.8m followers
Serious content presented in an Instagram friendly way. Videos, posts with multiple media types, high attention to detail and strong branding make the Guardian stand out in the world of Instagram news. Special mention to their international account in Australia for adding a distinctly local flavour to world affairs.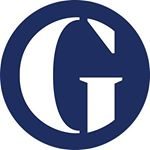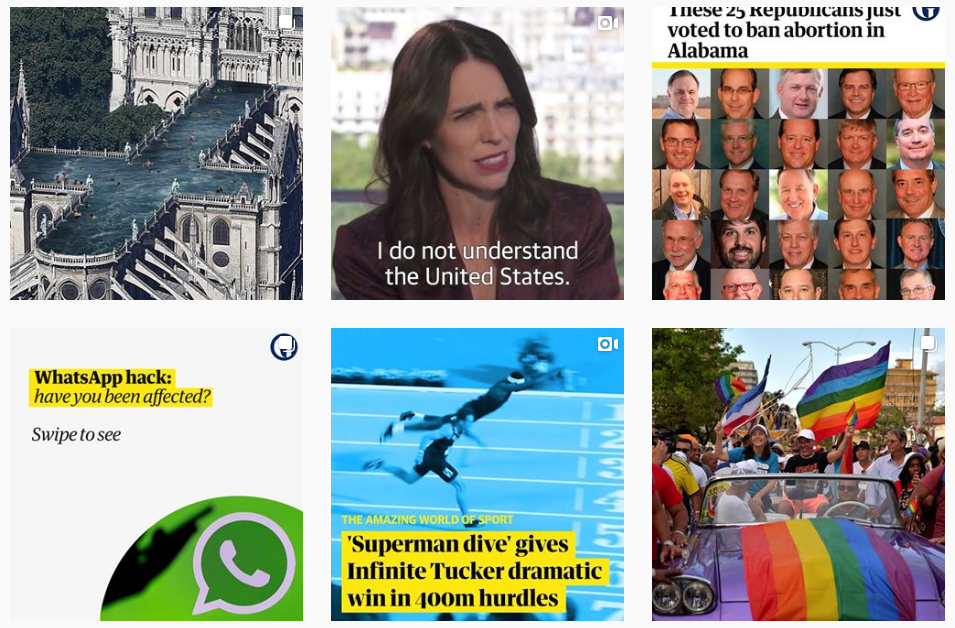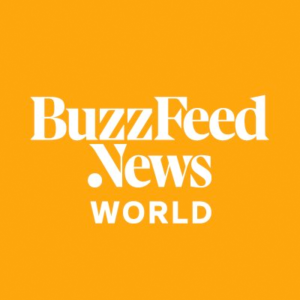 705k followers
The internationally focused arm of Buzzfeed News takes advantage of the company's depth of experience with providing content online across multiple platforms. However, this account is fronted (and presented) by one person, Kassy Cho, which means that a wide range of world news events are delivered in a personal way that is unique across the other big news players. Buzzfeed's strong presentation and branding is plainly obvious. Split pictures, three line headlines placed above the image, themed IGTV posts and clever use of design in their Instagram stories all combine to make Buzzfeed News World one of the go to news accounts on Instagram.